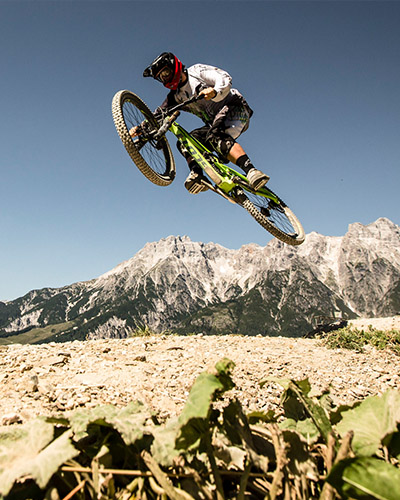 Biking & Mountainbiking
Cosy and challenging terrain
Our region is known for its exceptionally good cycling routes in the valley and up the hill. Our area offers everything from leisurely tours on asphalt up to really tough uphill sections on gravel with challenging gradients. Beginners and also professionals on the bike will have a lot of fun in the mountains and the valleys. Also in the range of downhill and freeride, the region has so much to offer. We are here to assist you to find the right bike tour for you and perhaps your children.
Our Excursions
Lightweight bike rides up to the endurance trip to properly collect altitude
Here you can see a few of our excursions. We are here to advice you to find even more bike tours in our surrounding.
Zellersee round
Cosy cycling around the Zellersee
Starting point: Saalfelden, Faustlinghof
Endpoint: Saalfelden, Faustlinghof
Difficulty: easy
Distance: 39 km
Altitude: ca. 100 m
Driving time: ca. 2 h 30 min
Hundstein
A tour with a few meters of altitude
Starting point: Saalfelden, Faustlinghof
Endpoint: Hundstein, Satzerhaus
Difficulty: middle - hard
Distance: 22 km
Altitude: ca. 1500 m
Driving time: ca. 3 h